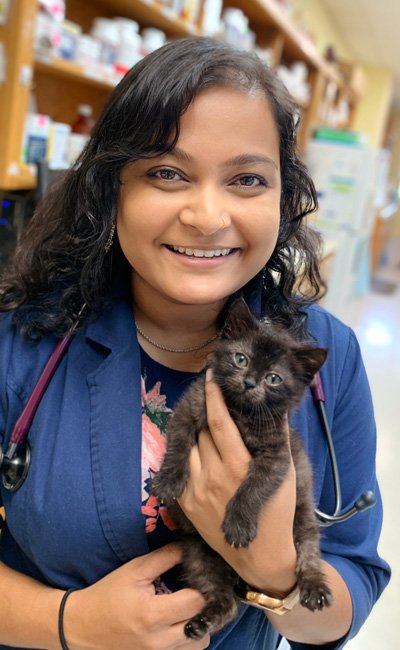 VetEvolve Practice: Companion Animal Clinic (CAC), Blacksburg, Virginia
Specialty: General Practice, Exotic Animals
Graduate: Virginia-Maryland College of Veterinary Medicine (VMCVM) | DVM
Undergraduate: East Tennessee State University | Human Health
The Journey to VetEvolve
Dr. Sonali Kadam spent most of her education intending to become a physician. However, while navigating her undergraduate degree, she began working at a children's museum caring for lizards, snakes, and other animals — and immediately fell in love with them. This was when she decided she wanted to enter the veterinary field.
During graduate school at Virginia-Maryland College of Veterinary Medicine, she was immersed into a community of other animal lovers with diverse experiences and backgrounds. She also took a number of courses taught by Dr. Matt McCormick — an adjunct assistant professor in the Department of Small Animal Clinical Services at VMCVM and a veterinarian at Companion Animal Clinic specializing in exotic animals.
She first heard about VetEvolve during an externship with CEDARCREST Animal Clinic in 2018 and met Vice President of Operations Jessica DeCesare during her time there. After graduating from VMCVM, she decided to stay local to the Blacksburg, VA area to remain close to her fiancé while he completed his education.
Thanks to her connection with Dr. McCormick and her experience during an additional externship at CAC, she decided to apply for an open veterinarian position there in 2019.
How VetEvolve Supports Her Success
"They were incredibly supportive of me as a new graduate — not only the doctors in assisting with medical decisions but also the staff in helping with day-to-day aspects. I consider myself lucky that I had such a great foundation to start off with. I was able to have more time for appointments so I could research things and gain more experience. That foundation helped me move up faster and gain more confidence. It's a very human corporation, too — if anything comes up, the VetEvolve leadership team is there to work with us on a solution. That's not just for the doctors, either; it's for the entire staff. We definitely are family here."
Beyond the staff at CAC, however, Dr. Kadam also received total support from the VetEvolve leadership team. She particularly appreciated how hands-off the company is when it comes to how she practices medicine, but will routinely check in to ask how they can help and support her to become the best vet she can be. Currently, they are working together on expanding the services Companion can provide for exotics (reptiles) such as in house diagnostics and surgery.
"Jessica has really been with me through this whole process. She encourages me to grow and has taken many strides to help me do so. When it was time for me to interview for CAC, she was very kind and helpful and always made me feel very welcome. Other corporations may require veterinarians to do things by their book, but it's refreshing to have the autonomy to practice the way we want."
Her Advice to Experienced Veterinarians and Recent Graduates
"You're in good hands at VetEvolve. Trust VetEvolve to help you grow into the best veterinarian you can be. They provide all the mentorship and guidance people need to continue growing and learning."
For students and recent graduates, Dr. Kadam recommends paying close attention to how many students are going through externships at an office. If there are more students cycling through, you'll know that they're interested in teaching and training. Another recommendation is to visit with your intended clinic to see if you "mesh with the vibe" and culture of the practice.
"During my short externship at Companion, it didn't take me long to realize how easily I fit in with the overall environment and culture, so building relationships with the staff and clients was almost effortless."