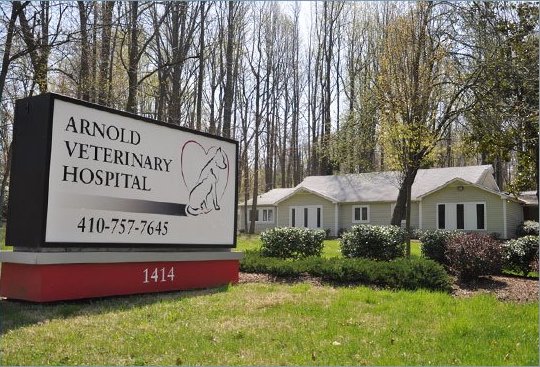 Arnold Veterinary Hospital
Arnold Veterinary Hospital is a long-standing, well-respected small animal veterinary practice in Arnold, Maryland. With three veterinarians, including one Fear Free certified veterinarian, the staff's number one priority is to provide quality patient care. As such, the team takes time to understand each animal's unique needs to keep them happy and healthy.
Arnold Veterinary Hospital has all of the equipment needed (including, but not limited to ultrasound, therapeutic laser and an IDEXX lab suite) to provide routine preventative care along with diagnostic workups and management of advanced medical issues.
The experienced Arnold Veterinary Hospital staff and doctors utilize low stress handling techniques and spend plenty of time on client communication, ensuring the team upholds their motto, "personal attention from professionals who care." Continuous learning is emphasized and most of the staff is cross-trained. The team frequently welcomes technician interns. It's the perfect place for individuals to expand their knowledge in a relaxed, supportive environment.
Interested in Careers at Arnold Veterinary Hospital?
As a part of the VetEvolve family, Arnold Veterinary Hospital has everything veterinarians need to enjoy a long, happy, and rewarding career. The practice is looking for assistants, technicians and experienced veterinarians to join their tight-knit team. Quality, personalized support and unique benefits are available to each doctor on staff through the VetEvolve network.