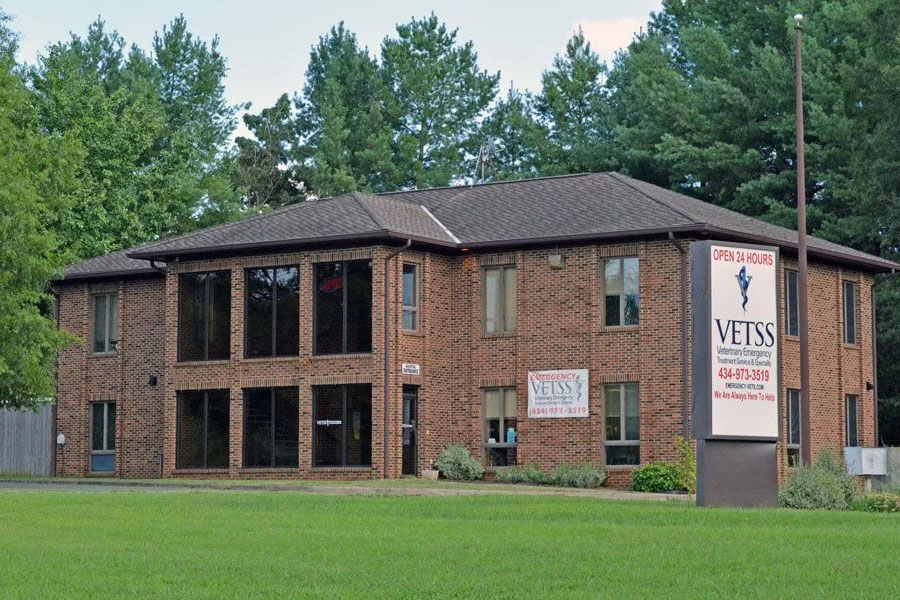 VETSS
Located in historic Charlottesville, Virginia with a gorgeous view of the Blue Ridge Mountains, Veterinary Emergency Treatment Services & Specialty (VETSS) offers a variety of veterinary care services ranging from general practice and emergency care services for companion animals. Despite its broad range of offerings, VETSS has a hometown feel where team members grow together, employees are empowered to learn, and doctors guide one another to create a truly comprehensive, versatile approach to patient care.
VETSS was established in 1989 as a leading provider of around-the-clock veterinary emergency services, surgery services, and urgent care needs. VETSS offers a full surgery suite, dentistry with digital x-rays, ultrasound, IDEXX in-house lab equipment, and much more. In the more than three decades since its founding, VETSS has continued to provide these critical services while actively participating in the community and giving back. In 2018, the practice expanded to include general practice services. While the practice now operates on 12-hour shifts seven days a week, it is well poised for growth and is planning to return to the 24/7/365 schedule.
VETSS' goal is to create an environment that allows its team members to practice good medicine while providing the best possible patient care. To achieve that, it utilizes concepts of the Fear Free and Feline Friendly approaches. And because of this, VETSS has built a long-standing reputation in the Charlottesville area for great client service as well as reasonable prices. Its team is well-rounded with skilled LVTs, particularly in emergency and surgery. The practice also has a strong focus on wellness, especially in chronic and progressive disease and managing those cases from a wellness perspective.
The VETSS team takes pride in its hard-working, driven, and focused approach. Each team member — from its four DVMs to its growing team of passionate support staff — is committed to supporting one another in a fun, easygoing atmosphere. As practice manager Genevieve Andrews says, "They're the kind of people who make you want to get up and come to work every day because they make the job easy and fun."
Year Founded: 1989
Number of DVMs: 3
Focus(es): Companion Animals & Exotics
Interested in Careers at VETSS?
As part of the VetEvolve family, VETSS provides everything DVMs need to enjoy a happy, rewarding career. The practice welcomes veterinary students seeking mentorship as well as experienced veterinarians looking for a career opportunity where they can practice the way they work best. Complete support, licensing and continuing education assistance, and more are available to each doctor on staff through the amazing team at VetEvolve. Charlottesville has also been ranked highly in the top contenders of the nation's best places to live for local restaurants, beautiful outdoor spaces, access to higher education, diversity, local art, and much more.