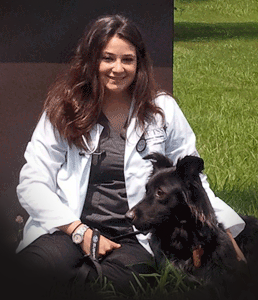 VetEvolve Practice: VETSS, Charlottesville, Virginia
Specialty: Emergency Medicine
Graduate: Texas A&M University | DVM
Undergraduate: The University of Texas at Dallas | Biology & Psychology
The Journey to VetEvolve
From childhood, Dr. Jenna Garza knew she would become a veterinarian. After receiving her DVM from Texas A&M University in College Station in 2013, she began her veterinary career at VETSS (prior to its acquisition by VetEvolve) focusing on emergency medicine.
Following an unexpected loss in her family, she decided to take a break from emergency medicine at VETSS and switched to general practice. VETSS was acquired by VetEvolve during her absence. She began to learn more about VetEvolve from her husband — also a veterinarian and the VETSS medical director.
In 2018, after hearing how VetEvolve handled the acquisition and supported the VETSS team, and with a desire to resume practicing emergency medicine (her true passion), she connected with Jessica DeCesare — the Vice President of Operations at VetEvolve.
"Jessica was so warm and inviting — my interview went so well. My husband always told me that whenever he had a concern, Jessica was there to address it and that they worked very well together. It wasn't like other clinics where there's often a lack of professionalism."
How VetEvolve Supports Her Success
Since rejoining VETSS, Dr. Garza has not only been able to continue practicing the type of medicine she enjoys most — which, in addition to emergency medicine also includes dentistry — but has also been given leadership opportunities. She is able to bring any questions or concerns directly to the VetEvolve leadership team as well. But the support she's received extends far beyond work alone.
"They've done a lot for my family. When we had our son, the entire staff got together and sent us a care package. It's not just a place for a career — it's an amazing culture that makes me feel like my family is part of the VetEvolve family as well."
Dr. Garza cites VetEvolve's high level of professionalism as a significant factor not only in her decision to rejoin the VETSS team but also as a reason why other veterinarians and support staff should consider joining.
"Allowing me to do what I need to do for my family and my patients is huge. I received more maternity leave than is typical in this industry. The benefits like health insurance, 401(k), and continuing education support are much better here than at other clinics."
As part of the VetEvolve team, she has also benefited from greater flexibility and work-life balance. Prior to VETSS being acquired by VetEvolve, Dr. Garza was working significant hours at VETSS. Now, she works three 12-hour shifts with the flexibility to practice more if she chooses. This has given her more time with her family and for continuing education opportunities while still giving her ample time to put her passion to work for her patients and their families.
Her Advice to Experienced Veterinarians and Recent Graduates
"If you're a new grad, you'll learn twice as much in emergency medicine as you would in general practice. One year of experience in that area equates to multiple years in general practice. It's always something significant — it's fast-paced, keeps you on your toes, and requires critical thinking."