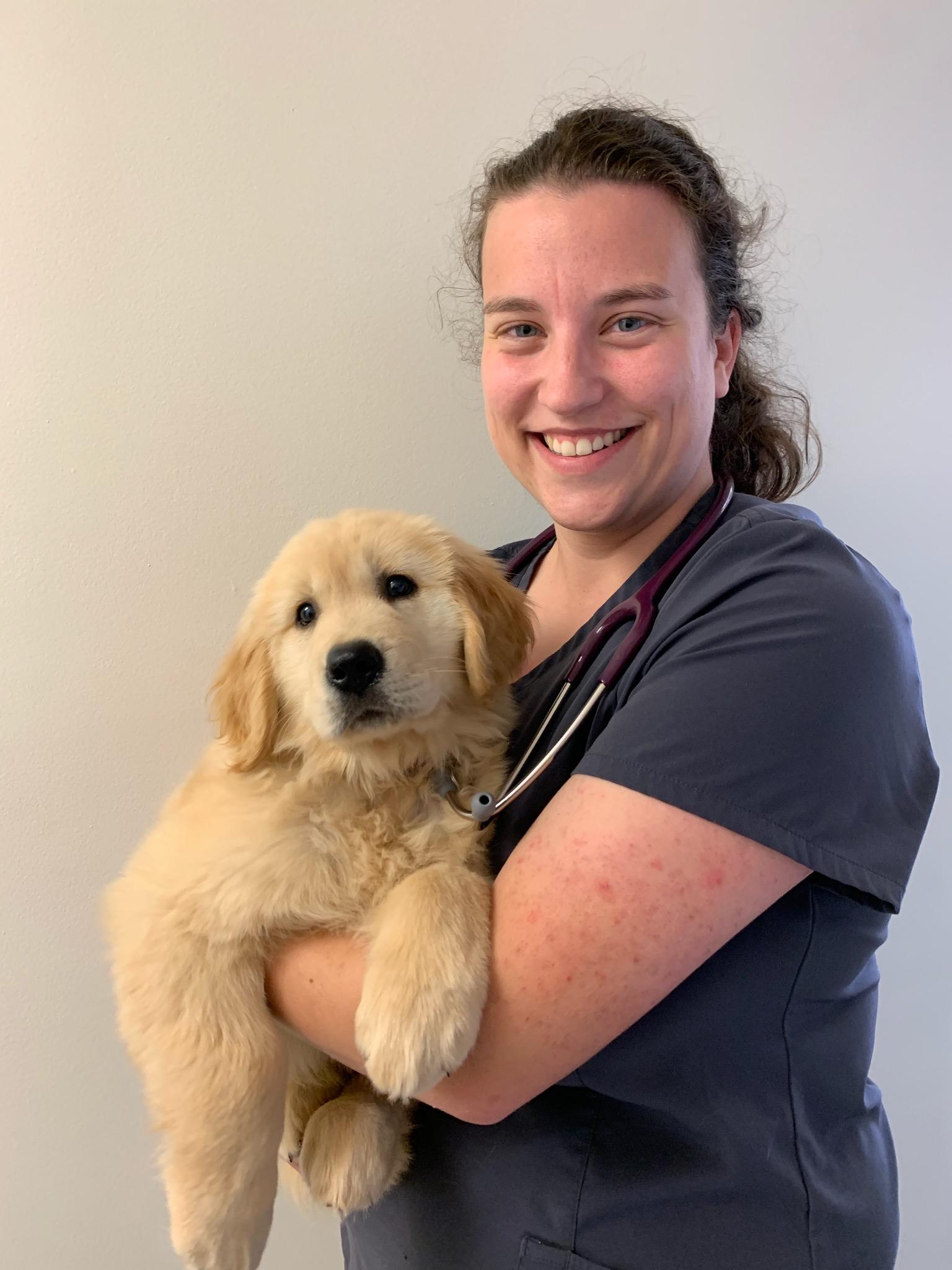 VetEvolve Practice: Virginia Lake Forest Animal Hospital, Forest, Virginia
Specialty: Preventive Medicine, General Practice, Nutrition
Graduate: Virginia-Maryland College of Veterinary Medicine, DVM
Undergraduate: Virginia Tech, Animal & Poultry Sciences
The Journey to VetEvolve
After receiving her DVM from Virginia-Maryland College of Veterinary Medicine, Dr. Julie Van Scoik joined a veterinary practice in Western Pennsylvania. Unfortunately, both the location and the experience left much to be desired. Seeking an opportunity that would provide more professional support, the freedom to enjoy life outside of work, and proximity to people she knew, Dr. Van Scoik relocated back to Virginia.
To ensure she'd get the right position, Dr. Van Scoik took her time evaluating each opportunity. After a couple months of careful research, she was introduced to VetEvolve's Lake Forest Animal Hospital. She spent an informal day with the Lake Forest team to see how they worked, communicated with clients and each other, and collaborated on patient care.
Things went so smoothly at first that she thought it was all a show, but when she came aboard she quickly discovered the team's professionalism and level of care for patients were genuine — and they haven't changed at all since.
Why Dr. Van Scoik Joined VetEvolve and Lake Forest
The Pace Was Better
At Lake Forest, Dr. Van Scoik is able to spend the right amount of time with each patient — ensuring each and every one receives thorough, proper care.
Doctors Collaborate More
VetEvolve veterinarians are encouraged to collaborate on conditions and treatments freely as opposed to following corporate treatment protocols.
The Team is Outstanding
At VetEvolve, our people are everything. Dr. Van Scoik saw firsthand that happier teams lead to more positive, successful outcomes for patients.
How VetEvolve Supports Your Success
You've worked hard to get to where you are, and we recognize that. Whether you're an experienced veterinarian or a recent veterinary school graduate, the VetEvolve team provides the opportunity, flexibility, and support you need to get the most out of your career and personal time.
Complete support from our leadership team from the moment you join our organization
Practice medicine the way you want — not according to practices set at a corporate level
Create your own schedule to work the way you work best and enjoy your life
Professional work environments where everyone is treated with respect
Mentorship and externship opportunities for those building their careers
Visit other VetEvolve practices to learn new skills and explore interests
Assistance with state certifications and continuing education
Some of the industry's most competitive benefits offerings
Her Advice to Experienced Veterinarians and Recent Graduates
"There are lots of opportunities available in this industry — but the last thing you need is to be just another body in a clinic. At VetEvolve, you're a valued member of their team. You're not limited to just your practice, either. The entire organization is available to help you learn and grow your skills. If you want to be part of a family, not just another practice, join VetEvolve."
Experience the VetEvolve Difference Now
If you've been looking for your next veterinary career opportunity, we would love to hear from you. Explore our open positions below: