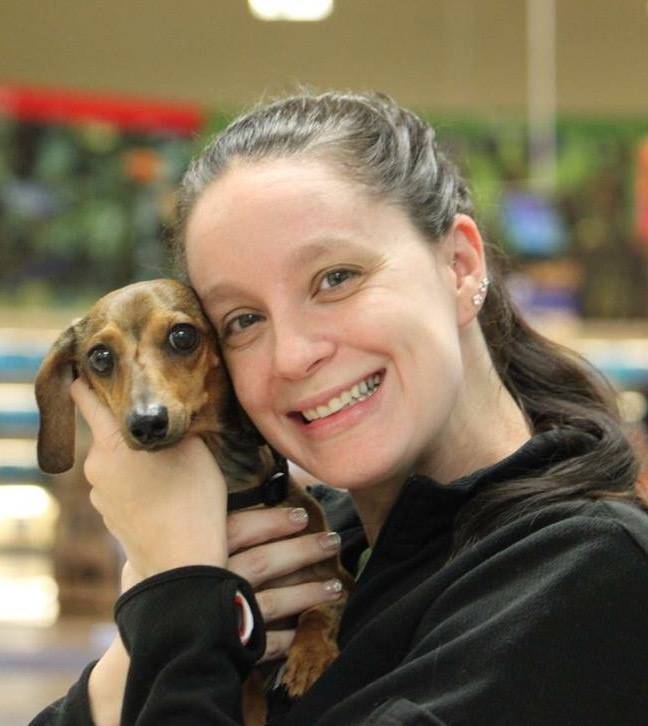 VetEvolve Practice: Companion Animal Clinic (CAC), Blacksburg, Virginia
Specialty: Internal Medicine, Dentistry
Graduate: Ross University School of Veterinary Medicine, DVM
Undergraduate: Colby-Sawyer College, BA in Biology
Dr. Vanessa Mitchell (DVM) is a veterinarian at Companion Animal Clinic (CAC) — a Blacksburg, Va. practice that treats cats, dogs, and exotics as part of the VetEvolve family of practices.
How Her Interest in Veterinary Medicine Began
As a five-year-old living in Boston, future doctor Vanessa Mitchell witnessed her first animal injury. While horseback riding, the horse she was on cut his leg. She was fascinated by the care and attention the animal received from the veterinarian that skillfully treated and dressed the wound.
This incident sparked the passion for veterinary care that would eventually lead Dr. Mitchell on the path to becoming a DVM. From that point forward, her aspirations never waivered; as she puts it: "My mom said it was always veterinary medicine for me."
After graduating from Colby-Sawyer College with her degree in Biology in 2005, Dr. Mitchell sought adventure while making the decision about where to attend veterinary school. She decided to attend Ross Veterinary School in the Caribbean for a four-year experience outside of her comfort zone.
At Ross, Dr. Mitchell dedicated herself to learning and became close with her fellow students. She says of the experience: " I especially loved that it was like a family." When asked about her favorite memory, she struggled to pinpoint just one experience but mentioned 12 or so people coming together to do an annual potluck for Thanksgiving.
After receiving her DVM from Ross, Dr. Mitchell began her veterinary career. It wasn't until about three years into her work that she made the transition to a VetEvolve practice.
Moving to VetEvolve
When Dr. Mitchell started working at Companion Animal Clinic (CAC) in 2015, VetEvolve had just become owners of the practice. At the time she landed an interview with VetEvolve owner Nick Lodestro, she was about seven months pregnant.
Before coming in for an in-person meeting, Dr. Mitchell was upfront with Lodestro about her pregnancy and wasn't sure whether that would deter the practice from hiring her. After all, CAC was already well-established as one of the best practices in an area and known to be saturated with recent veterinary graduates. It was only the second practice VetEvolve had ever acquired, and at that time they were just beginning their work with the practice.
She said that Lodestro thanked her for her honesty, but let her know that he wanted to continue the interview process with her. Ultimately, Dr. Mitchell secured the position, and has been with CAC ever since.
To convince her to join the practice, Lodestro explained to Dr. Mitchell that the VetEvolve model is purposefully not corporate in nature. Instead, VetEvolve supports doctors and staff as a first priority — even customizing their approach to each person's needs and career goals — and then steps back to let doctors practice medicine the way they want. Having previously worked in a corporate environment that didn't suit her, Dr. Mitchell now describes CAC as "the best fit for her as a veterinarian in her 10 years of practice."
CAC has a culture of friendliness and helpfulness, and Dr. Mitchell explained that during her onboarding there every doctor made themselves available to help to show her the ropes or answer her questions. "I was never left to fall on my face," she said of their team's support.
In her sixth year at CAC as of the writing of this profile, the VetEvolve team and structure continues to support Dr. Mitchell with ongoing growth and options for exploring her particular interest in dental work with advanced CE. Working at a VetEvolve practice allows her to practice veterinary medicine the way she wants while giving her the resources she needs to do her job well. The VetEvolve and CAC teams have also been flexible and supportive when it comes to Dr. Mitchell and their other veterinarians balancing being parents with their veterinary work.
Dr. Mitchell currently resides in Christiansburg, Virginia, with her husband James and two children. Her menagerie of pets includes three cats — Pippa, Ella, and Baxter — and two dogs — Riley and Tara. On any given day, you can find her doing what she does best in surgery while singing along to pop music from the 90s and early 2000s (her absolute favorite is Adele).
Her Advice to Experienced Veterinarians and Recent Graduates
If you're a veterinary student, Dr. Mitchell advises that you should "have confidence in yourself" because "you know more than you think you do." She also says: "Do not be afraid to ask questions."
At any point in your veterinary career, Dr. Mitchell explains that balance and a good support system are key when it comes to dealing with stress and potential burnout. "This is a stressful job. Find a good support base and a job that will nurture you and help you grow," she said.