Month-long initiative highlights the core value, Serve, with team members' contributions to their communities outside of work
VetEvolve's people-centric approach to veterinary care and support is built on six core values — Serve, Evolve, Commit, Trust, Create, and Care. VetEvolve recently completed a month-long celebration of one of those values, Serve, by highlighting the service and charity efforts of some of our team members.
This value is exceedingly important to everyone at VetEvolve and was born from the beliefs of our co-founders — both former Marines. Their mission-first mindset combined with a strong belief in taking care of others is what drew them to veterinary practice ownership. VetEvolve always encourages team members to think about how they Serve our clients and patients so they always feel heard, respected, and cared for. The team members spotlighted below apply the value of Serve to their lives away from work as well by dedicating their time and talents to making a difference in their communities and charitable organizations.
Besides recognizing the service and charity work of each of the team members below, VetEvolve also made donations to each of the non-profits selected. We're proud to have each as a valued member of our team.
Taylor Spencer: Saint Francis Service Dogs         
Taylor shines the Serve spotlight on Saint Francis Service Dogs, a non-profit in Roanoke, Virginia which helps children and adults with disabilities become more independent through a partnership with a service dog. While the dogs are in training, many come to Companion Animal Clinic (where Taylor is the Practice Manager) as the VetEvolve team members take excellent care of them with wellness care and lots of hugs.
Dr. Joanne Hibbs: Faith N Friends Horse Rescue & Sanctuary

Dr. Hibbs has been donating her services for routine care to support horses rescued by Faith N Friends Horse Rescue & Sanctuary in Corryton, Tennessee. Faith N Friends finds homes for adoptable horses and takes care of those who will not find homes. The organization also offers programs, such as riding lessons and 'Reading with the Rescues.'
Carla Shinaberry: Deerfield Valley Volunteer Fire Department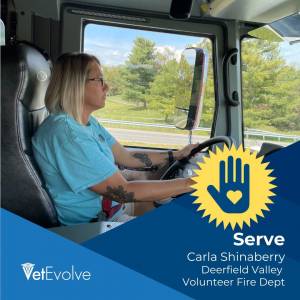 Outside of her work at Veterinary Emergency Services (VES), Client Service Representative Carla ShinaBeery has also found time to volunteer at the Deerfield Valley Volunteer Fire Department for the last 14 years. She has an extensive amount of certifications in this work, including as a Firefighter II, EVOC (Emergency Vehicle Operations Course), Hazmat, Basic Pump Operation, and Wildland Firefighter. Carla has proven to be a valuable asset in helping keep her community safe.
Hillary Elliott: ART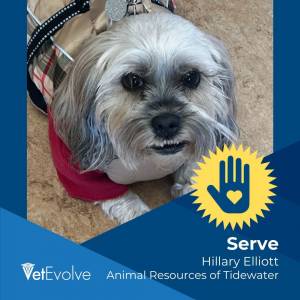 As a practice manager, Hillary Elliott helps oversee the care of animals at Armistead Avenue Veterinary Hospital. She augments this work by also assisting Animal Resources of Tidewater (ART). This organization assists families whose pets need veterinary care, but cannot afford it in the Hampton Roads area. For example, Gigi — a 7-year-old Shih Tzu — came to ART when her disabled owner brought her in due to no longer being active. Tests showed an infected uterus, and Gigi had an emergency spay supported by ART's assistance.
Kaylee & Roy Hernandez: Hope for Appalachia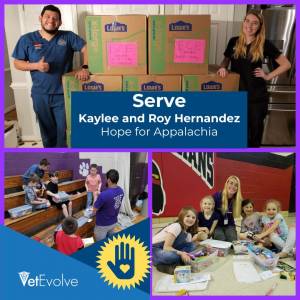 This duo works at Woodlake Animal Hospital and gives their time to supporting Hope for Appalachia Virginia. Each year, Kaylee and Roy adopt an elementary school and raise funds for supplies to provide support for children in need. For them, the way to Serve includes making a difference by giving their time and their hearts to a worthy cause.
Dr. Vanessa Mitchell: NRV Cares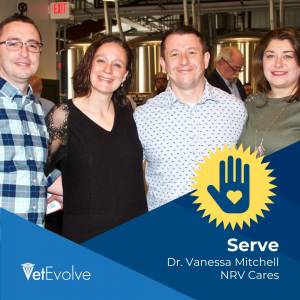 Dr. Vanessa Mitchell serves patients and their owners at Companion Animal Clinic, but has also worked with NRV Cares for several years to support their cause of eliminating child abuse in the New River Valley. Every child deserves a healthy childhood, and Dr. Mitchell's moral and financial support to the organization makes a difference for many.
Dr. Keith Taylor: Nyaka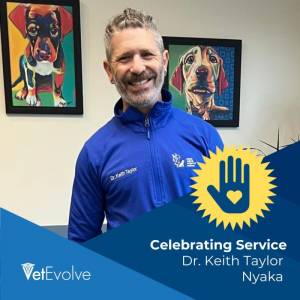 Between providing critical services at Animal Medical Centers of Loudoun, Dr. Taylor has become a dedicated runner. With more than 400 training miles, he's raised more than $ 6,500 for the New York City Marathon — where is running to support Nyaka. Nyaka supports 80,000 children orphaned from the HIV/AIDS epidemic in Uganda. Dr. Taylor will be running in the marathon on Nov. 5!
Lori McManus: John Shapiro's Superheroes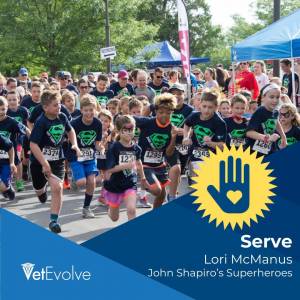 Lori works full-time as VetEvolve's Marketing Manager but still finds time to support John Shapiro's Superheroes 5K Foundation. The foundation began as a tribute to a courageous 6-year-old boy who lost his battle with brain cancer in 2011. Lori has donated her time and talents to helping the group build its website and social media marketing since 2015 and joined the board of the organization in 2021. All proceeds from the foundation support local families with children battling cancer.
Dr. Terri White: TomCat Solutions
Dr. Terri White, of Community Animal Hospital, founded TomCat Solutions with her husband; the goal was to reduce the number of free-roaming and abandoned cats in the Chesapeake area. Through the work of this charity and various fundraisers, including a shop inside Community Animal Hospital, TomCat Solutions is able to spay and neuter feral cats with an eye on finding every cat a home.
Teresa Grogg: Churchville Volunteer Fire & Rescue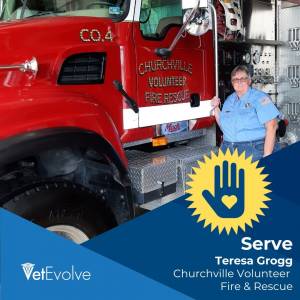 When she's not serving as the Practice Manager at Veterinary Emergency Services, Teresa Grogg gives of herself as a support volunteer with the Churchville Volunteer Fire & Rescue team. Supporting the fire department is near and dear to her heart; her husband was just honored for his 50 years of service, and her son is also an active member. In addition, Teresa carries on her father's Memorial Day tradition of placing flags on 30 deceased member's graves across six area cemeteries.
Dr. Mica Bentley: American Eagle Foundation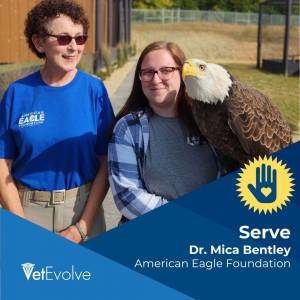 Dr. Mica Bentley from Seymour Veterinary Clinic has been volunteering with the American Eagle Foundation, a non-profit that is dedicated to protecting the Bald Eagle through conservation, education, and rehabilitation programs. She works directly with the head of the rehabilitation program and provides invaluable care for these magnificent wild birds which include eagles, owls, vultures, and other birds of prey who are rescued, rehabilitated and released, when possible.
VetEvolve Invests in its People, their Service and Charity
Serving others is a key component of our mission and VetEvolve is dedicated to supporting all our people — inside and outside of work. When veterinarians and support staff have the support they need, they're empowered to deliver consistent, high-quality care for pets and animals, and better serve the communities in which they live.
Whether you're a veterinarian looking for a new opportunity or a practice owner seeking a partnership to support your business and its growth, VetEvolve has the network, people, and resources to help you find your 'Happy Here' destination.