Hands-on experience with veterinary professionals passionate about sharing their knowledge is critical to veterinary students' professional development. VetEvolve is committed to providing externships that help each student meet their individual learning goals as they prepare to launch their careers post-graduation.
Extern Spotlight: Sayde Soffin
Sayde Soffin is a fourth-year veterinary student at Virginia-Maryland College of Veterinary Medicine with a strong interest in learning more about small animal General Practice, Emergency, and Urgent Care. Sayde spent the summer before her first and second years as a Veterinary Assistant at a VetEvolve Emergency/Urgent Care hospital in Charlottesville, VA. She had a great experience, got to know key members of the VetEvolve leadership team, and kept in touch.
When contacted by VetEvolve about externship opportunities, Sayde was open to exploring options amongst our 30+ hospitals. She was focused on gaining valuable hands-on experience in areas such as dentistry, routine and emergency surgical procedures, and anesthesia protocols through her externship. Bay Beach Veterinary Hospital and nearby Bay Beach Veterinary Emergency Hospital were decided on as the best fit.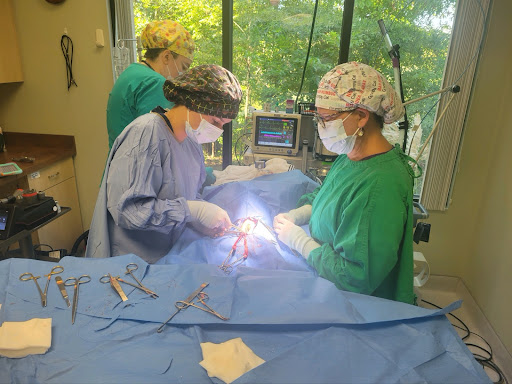 Mutually Beneficial Collaboration
Sayde completed her externship under the guidance of Dr. Lizette Reed at Bay Beach Veterinary Hospital, a VetEvolve practice located in Virginia Beach, VA. Prior to the externship, Dr. Reed sought Sayde's input to ensure Bay Beach would deliver exactly what she was looking for from her three-week externship and designed a plan to suit her needs.
Through collaborating on building the externship plan and maintaining open lines of communication throughout, Sayde and Dr. Reed both had a rewarding experience. Sayde was able to strengthen her clinical and client communication foundation by working alongside several senior doctors who are passionate about contributing to the development of the next generation of veterinarians; Dr. Reed and the Bay Beach team continued to hone their internal culture of learning and evolving through discussing Sayde's recent learnings at Virginia-Maryland CVM.
Externship Experiences Tailored to You
Active Involvement in Cases
Sayde was treated as a valued member of the Bay Beach team. She was consistently asked to propose case plans/approaches and offer input throughout case management. She actively participated in Bay Beach's regular case review and rounds sessions.
Delivering on Your Goals
Thanks to the upfront collaboration, Sayde's externship delivered the hands-on experience she was looking for in dentistry, anesthesia, surgery, and more. Her work was split evenly between GP, Urgent Care, and ER.
Extensive Client Communication Exposure
Sadye was able to observe how different doctors approach client communication in GP, Urgent Care, and ER environments. She witnessed how adapting your communication style to each client and situation and offering a variety of approaches to treatment helps clients feel more calm and confident in their relationship with their veterinarian, leading to better patient outcomes.
Happy Starts Here — Connect with Us Today
VetEvolve is a network of more than 30 GP and ER practices concentrated in MD, VA, TN, WV, and PA. Our people-first approach includes tailored externship and mentorship opportunities for veterinary students and new graduates.